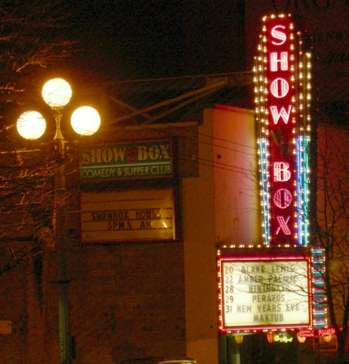 Just across Pike Place Market, a few steps down the road from Blarney Stone Pub and Restaurant, you'll find Seattle's legendary musical venue. Since 1939, The Showbox has been featuring major headliners such as Mae West, the Ramones, burlesque queen Gypsy Rose Lee, Pearl Jam and chart toppers Macklemore & Ryan Lewis. The Showbox hosts numerous local, national and international artists and bands, comfortably fitting over a thousand people on any given night.
This iconic art deco building has seen downtown Seattle change through the times and remains one of the most influential entertainment venues in the country. In a town that is absolutely brimming with music and life, The Showbox contributes significantly to the local music scene. Ask any local where to go for a concert and you will surely be pointed to this place at 1st Avenue.
Now on its 75th year, The Showbox is returning to its roots, among the line-up of spectacular events they have for the year, the club is also reviving the lounge and giving back its 1946 name, Kerns Music Shop. It was named after Johnny Kerns, a trombone player who opened up the storefront that became the "it" place for musicians and their fans. From time to time, it wasn't surprising to hear an impromptu live performance from then newcomers like Frank Sinatra, Sarah Vaughan, Nat King Cole and Harry James. The lounge opens 2 hours before each show and is a great place to meet and greet top acts from Seattle's beloved local musicians to international stars.
In 2007, Showbox opened a new location in a converted warehouse in the SoDo district. Located near the sports stadiums, Showbox SoDo has a 1,800 capacity and has a vibe all its own with beautiful wooden beams and brick architecture. Despite its short history, this venue has already seen the likes of Kid Rock, the Pogues, Sharon Jones and the Dap Kings, My Chemical Romance, Gotye and many more.
What makes the Showbox locations well-loved, apart from their historic charm, is their versatility. In the true spirit of entertainment, Showbox is known for hosting great shows for all ages, comfortably housing guests and offering friendly yet exceptional service.
Don't forget to cap off the night with an ice cold pint at the Blarney Stone Pub!