Blarney Stone Pub & Restaurant
Open now till 11pm.  Sunday 9am-11pm ( Brunch 9am – 1pm ).  Monday – Thursday 2pm – 11pm.  Friday, Saturday 11:30am – 11pm.
Brunch on Sunday now!!  9am – 1pm.  Find Brunch menu here  Crab Benedict w/ potatoes:  $19.99.  Classic Egg Benedict $16.99.  Chicken Fried Steak & Eggs $17.99.  Sausage, egg & cheese croissant w/ potatoes $14.99.  Irish Coffee's, Mimosa's and much more…
Some of the best pub food in Seattle, including an amazing fish and chips, wings, a great burger, bangers and mash and other uniquely delicious food for "just a pub".  Also, great drinks – cocktails, beers and wine.  But primarily cocktails and great taps of beer from around the Pacific Northwest.
50% occupancy.  Masks required.  Thank you for participating in health standards that will keep us open for business.
We're employing safety precautions such as hand sanitizer, & full on, full body sanitizing 'wands' as well as appropriately distanced tables.  All the protocols – and more actually – will be in place so that you can comfortably rely on The Blarney Stone for both safety and a place to finally get out and have some great drinks and food.  We're beyond looking forward to that…
Happy Hour:  4:00pm – 7pm daily.  $1 off draft beers, $1 off well cocktails.  Happy Hour menu here.
An authentic Seattle pub, bar and restaurant. Happy Hour everyday 4-7pm. Late night dining, lunch & dinner. Karaoke. Full bar and great beers. Authentic Irish Pub experience. Great food. Seahawks game safe watch place…
Address:  1416 1st Ave, Seattle, WA 98101        Phone:  206-448-8439
Blarney Stone Pub & Restaurant – Irish pub, full bar & restaurant ( lunch, dinner & happy hour ) located in downtown Seattle next to The Showbox and across the street from Pike Place Market on 1st Ave between Union St and Pike St.
One of the best bars in Seattle for football, cheap drinks and great food.  A great sports bar right next door to the Showbox and across the street from the Pike Place Market.
Outdoor Seating:  outdoor patio seating in front facing 1st Ave.
13 big screen TV's.  All sports on TV.
Bar Games:  Pool Table, Darts, Shuffleboard
Capacity:  huge bar ( two actual bars, bar areas ) with two seating areas.
Great beers on tap.  Wine.  Cocktails.  Full Bar!
Menu:  Our food is actually really good!  We serve small plates and appetizers like Chicken Wings, Hummus plates and Pulled Pork Sliders ( $7.99 ).  Delicious soups like Tomato Basil Bisuqe, Potato Leek Soup & Clam Chowder.  Salads:  Classic Pub Caesar Or As a Wrap, Goat Cheese & Spinach Salad, or Old Fashioned Wedge Salad.  Amazing sandwiches like:  Reuben, Monte Cristo, Panini Pub Sandwich, Crispy Buffalo Chicken.  Entrees like Guinness Lamb and Beef Stew, Bangers and Mash, Crispy Chicken Monster Burrito, and Halibut Fish and Chips, among many other options.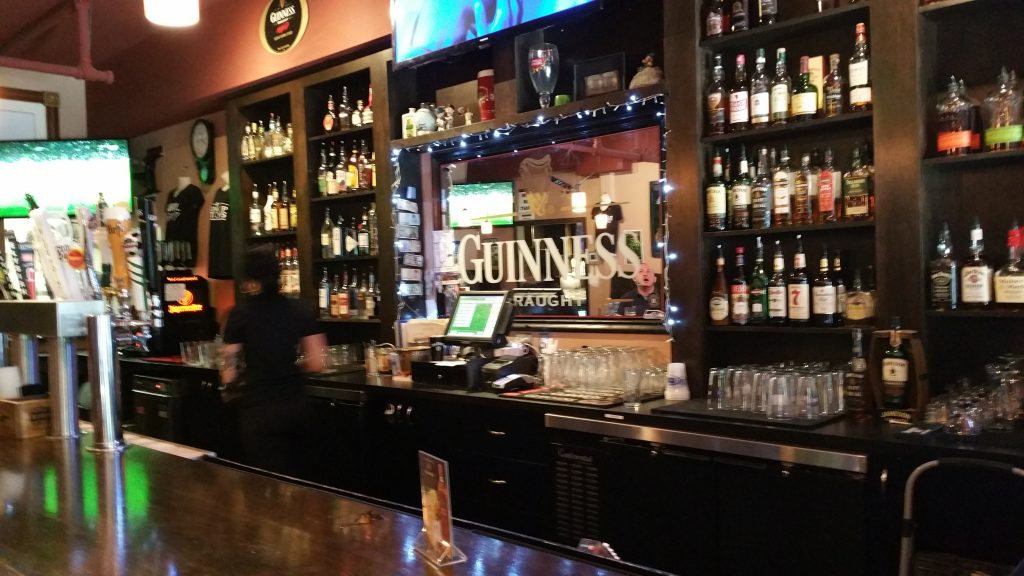 ---
Blarney Stone Pub & Restaurant : 1416 1st Avenue Seattle WA 98101
(206) 448-8439
Map To Our Location: